Jan 25, 2022
Time Flies, And Hard Work Pays Off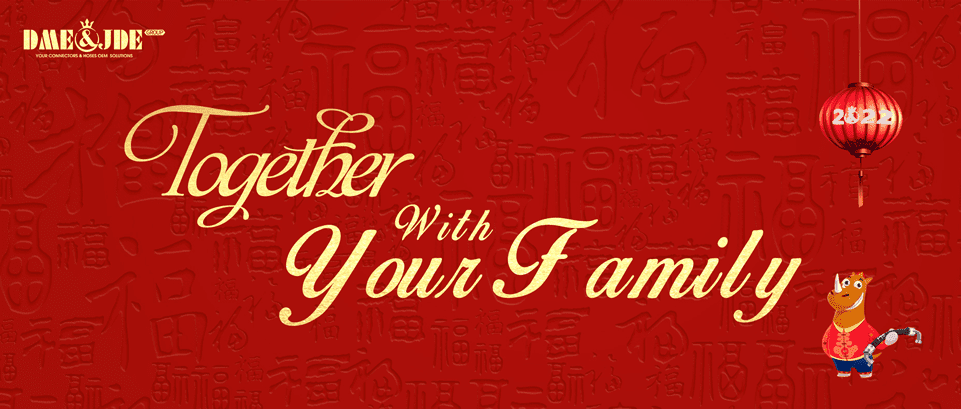 2021 is an extraordinary year and a milestone year for DME&JDE. Despite the severe international economic situation, we have made gratifying achievements and breakthroughs.
Successfully achieve the sales target and new market development target of DME&JDE Group;
About global agent recruitment:
Chinese mainland: Three new domestic agent partners are added, who are exclusively responsible for the products and sales services in their respective regions;
Other regions around the world: four new agent partners, Chile's PRD, Poland's WR, Indonesia's PT. A. and Vietnam's ME, have been added to take exclusive responsibility for the products and sales services in their respective regions;
Established the global operation center of DME&JDE Group, and made every effort to build a one-stop global supply chain service system of DME&JDE brand;
DME invested 10 million yuan to continuously upgrade the fully automatic hydraulic connector machine tool production line and high vibration frequency connector pulse detection center, mainly providing high-level hydraulic connectors for the customers of OEM in Europe, America and China;
JDE invested 10 million yuan to build a new automatic mixer center, a-level R&D center in Hebei Province and the introduction of large-size German high-speed braiding machines. We mainly provide high-level hydraulic hoses for high-end construction machinery industry customers in Europe, America and China;
DME&JDE Group, together with Lillbaka, FINN-POWER and SUNWAY, will embark on a cooperative journey to explore the hydraulic fluid industry in depth: hoses, fittings and crimping. And provide users with "one-stop" OEM-level hydraulic fluid products and services;
JDE introduced the Italian process dynamic pulse test bench in December, which has higher stability and longer service life, thus fully ensuring the test accuracy and stability. Once again, escort the quality of our products.
Now at the beginning of the new year in 2022, we just have some good news. Share joy with everyone:
Open the brand promotion plan in an all-round way: www.dmejde.com brand-new professional website for hydraulic hoses and fittings is launched, which perfectly solves the problem of hose fitting selection for customers around the world. One-stop selection of hydraulic hoses, hydraulic fittings and hydraulic assemblies provides a thorough and professional solution, which can be used on the palm anytime, anywhere.
Signed the cooperation document of DME&JDE products exclusive agency with CanHy in North America, which is exclusively responsible for the products and sales services in relevant regions.
Fortunately, we are advancing with each passing year!
Our rapid development is inseparable from all the employees who work together and fight side by side with the company; It is inseparable from the support and understanding of employees' family members; Even more inseparable from the constant company of partners.
Thank you for choosing and trusting DME&JDE Group. No matter what kind of environment you are facing, you will not change your original intention, and join hands with us to get through the frost and snow together. Every time you participate, it is the driving force of our journey forward.
The past year was good, and the new year will be even better.
Standing at a new starting point and facing the hopeful year of 2022, it is a crucial year for us to set sail and write a chapter. Let's unite as one, seek development with one heart and one mind, forge ahead with mutual cooperation, and create new glories and achievements together.
As the New Year approaches, DME&JDE Group wishes you everything you happiness and long peace! Win-win, long-term and embrace 2022!