August 18th, 2022
Super Easy-Flex® - Scientific Design, Really Achieved a Comprehensive Upgrade
As the new hydraulic hose launched by JDE, Super Easy-Flex®-Smooth Cover Hoses can be applied to many industrial equipment and mobile application equipment, and provide a safer, more durable and stable hydraulic fluid solution.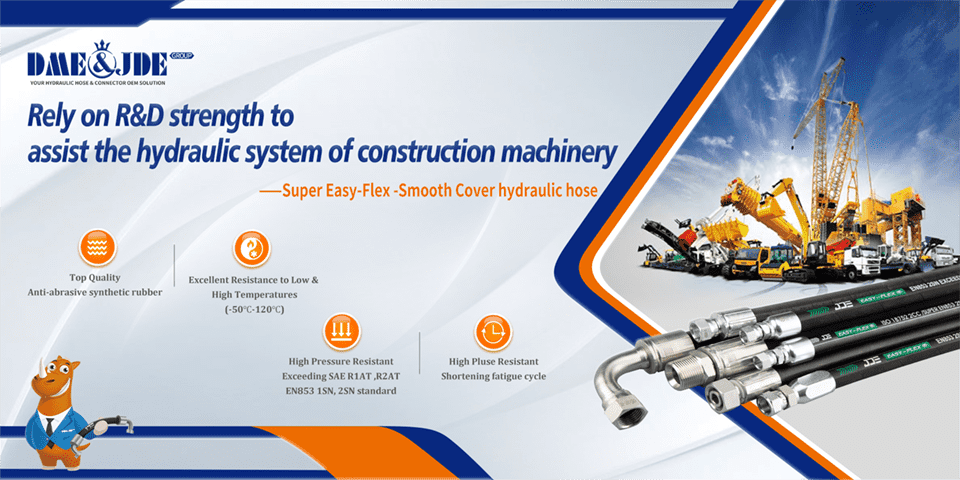 Introduction of German Technology, To achieve the most reasonable and extreme filling of the connector coat
Super Easy-Flex ®-Smooth Cover hydraulic hose, the thickness of the outer rubber is only 0.8-1.0 mm, which is designed and manufactured for supporting the mainstream demand of the hydraulic system of the construction machinery. The production technology of the outer rubber thickness comes from the German H first-line cooperative brand. This technology can fully guarantee the most reasonable and extreme filling of the outer rubber layer of the hydraulic hose during the process of the fittings and the hydraulic hose.
Case
Hydraulic hose outer rubber layer is too thick, resulting in overfilling, resulting in the failure of clamping:
The fittings in the following figure are all No-Skiving fittings;
The thickness of the outer rubber layer in the picture on the left below is 1.2-1.3 mm, and the thickness of the picture on the right is 1.3-1.4 mm;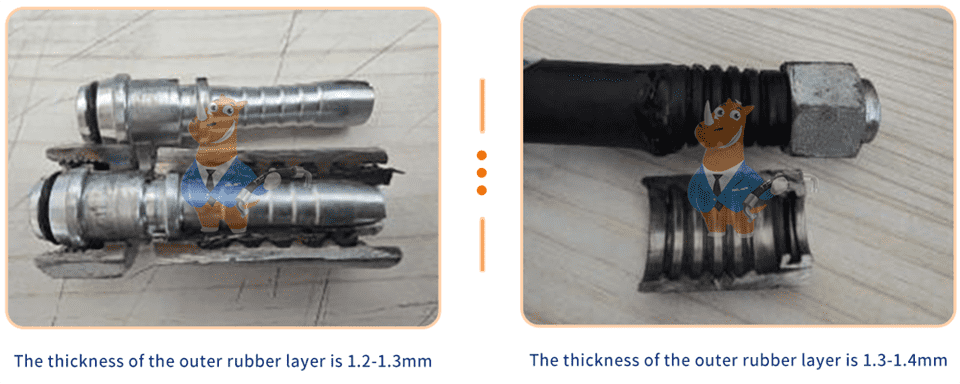 Basic Knowledge of Braided Structure Design
By using micro-mechanics analysis method based on representative volume element theory, the analytical method of orthogonal anisotropic mechanical properties of the braided skeleton layer (referred to as braided layer) of the hose was derived. The equivalent mechanical modulus was verified by axial tensile experiment of the braided layer. The software of fast modeling and equivalent mechanical properties analysis of the braided layer was developed. Based on the orthogonal anisotropic constitutive equation of the braided layer, a high-precision finite element model of the brake hose was established, and the simulation analysis and experimental verification of the torsion deformation were carried out**.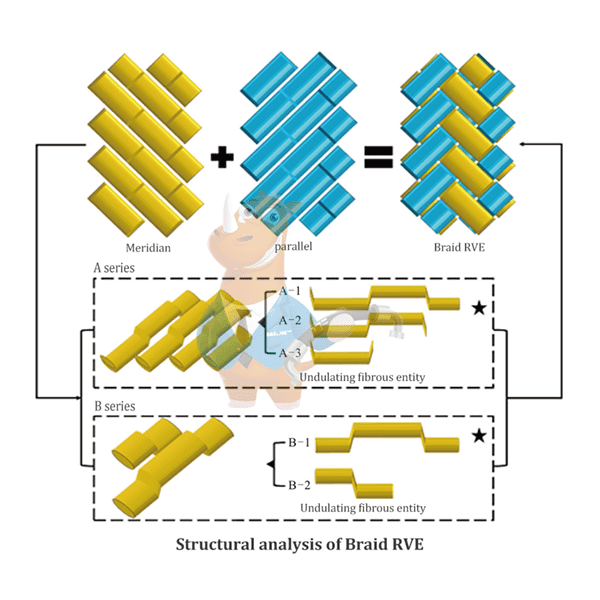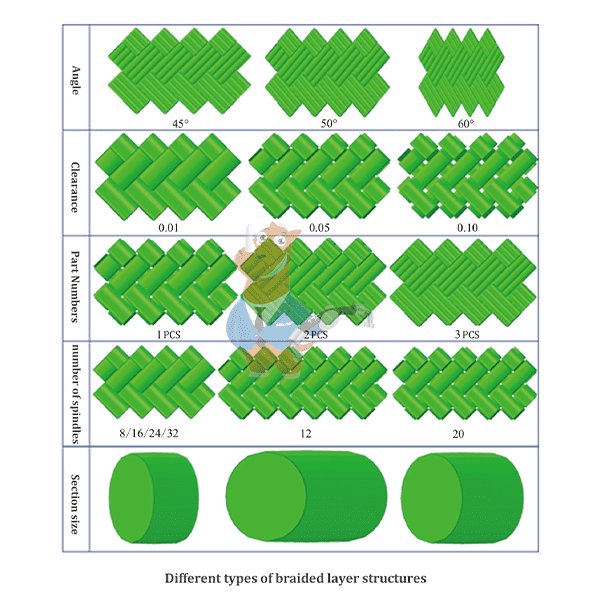 We normally think that: The braid angle of steel wire (fiber) braid is often 54°44'.

Super Easy-Flex®-Smooth Cover Hoses, Assist Excavating Machinery
Excavator is a main type of construction machinery, is one of the main construction machinery equipment in earthwork, known as the king of construction machinery.
Due to too much dust particles in mine operation,Super Easy-Flex®-Smooth Cover Hoses adopts black smooth cover, easy to clean, can reduce the hose cleaning work in the process of operation, and provide more safe hydraulic power for complex mining machinery.

Super Easy-Flex®-Smooth Cover Hoses, Assist Engineering Lifting Machinery
Lifting machinery is the general name of mechanical equipment that can lift and transport materials and personnel. It is a common type of construction machinery, mainly including tower crane, car crane, crawler crane, truck crane, etc. Its hydraulic system has high requirements for hose.
Super Easy-Flex®-Smooth Cover Hoses adopts special external adhesive @Easy_Type, which has excellent tearing resistance;with smaller bending radius, to provide more flexible hydraulic power for lifting machinery.

Super Easy-Flex®-Smooth Cover Hoses, Assist Booster Pile Machine
Pile machinery refers to the machinery used for drilling, slotting, piling and sinking piles in various pile foundation construction. Rotary drilling rig is a kind of construction equipment for digging soil into holes and filling piles.
Compared with the same series of rubber stripping hose, the wear resistance of Super Easy-Flex®-Smooth Cover Hoses increases by 30%; ozone resistance increased by 20%, can provide more lasting hydraulic power for rotary drilling machine and other pile construction machinery.

Super Easy-Flex®-Smooth Cover Hoses, Assist Marine Machinery
Ship's cargo crane refers to the devices and machinery used by a ship when loading and unloading goods. Most general-purpose transport ships, especially the dry cargo ships transporting box, bundle, bag and other piece goods, need to install cargo lifting equipment on board.
The harsh marine environment is very easy to cause corrosion loss of machinery and parts. Super Easy-Flex®-Smooth Cover Hoses are no-skive and directly crimping to protect the steel wire reinforcement layer,can effectively resist corrosion, prolong its service life and provide hydraulic power support for marine machinery.

Super Easy-Flex®-Smooth Cover Hoses, Assisted Highway Machinery
The multifunctional snow removal vehicle is one of the main equipment in road machinery, which can realize the functions of spreading solvent, pushing snow, sweeping snow, throwing snow and breaking ice. It is a special structure special operation vehicle for removing road snow.The ice-breaking and snow-removing equipment can be installed on the vehicle with hydraulic pressure, and the flexible contact with the road surface will not cause damage to the road surface.
Super Easy-Flex®-Smooth Cover Hoses excellent cold performance, in -50°C cold environment can still work properly, thus providing snow removal vehicles more stable hydraulic fluid power.

Product Summary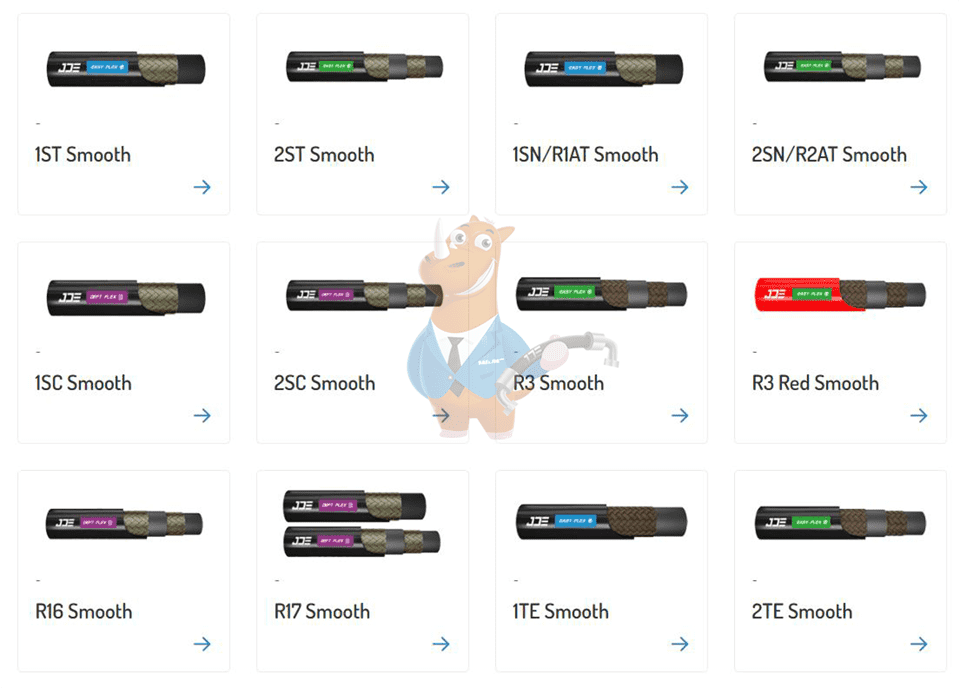 **The above text and content are cited in The Analysis Method Of Orthogonal Anisotropic Mechanical Properties Of The Braided Layer of Brake Hose And The Simulation Method & Experimental Verification Of The Torsion Characteristics Of The Hose
Article Serial No.: 1000-890X(2020)02-0083-08
Chinese Library Classification No.: TQ336. 3
Author: Zhang Yichuan 1; Liu Feng 1; Fu Shoukang 2; Wang Liangyan 2; Sun Kejian 2; Li Fanzhu 1*; Lu Yonglai1*
(1. Beijing University of Chemical Technology, State Key Laboratory of Organic-Inorganic Composites, Beijing 100029; 2. Nanjing Orientleader Technology Co., Ltd, Nanjing, Jiangsu Province, 210028)
If there is any infringement, please contact the author to delete.