April 21, 2022
EXACT-FLEX Series – A Good Alternative to International First-Line Brands
Are you at a loss because of buying expensive imported brands; are you troubled by the frequent replacement of domestic pipe fittings; are you at a loss because of the limited space for installation and the bending radius of the hose is not small enough? Choose JDE's high-end customized version of EXACT-FLEX series, let your troubles be swept away, go and find out!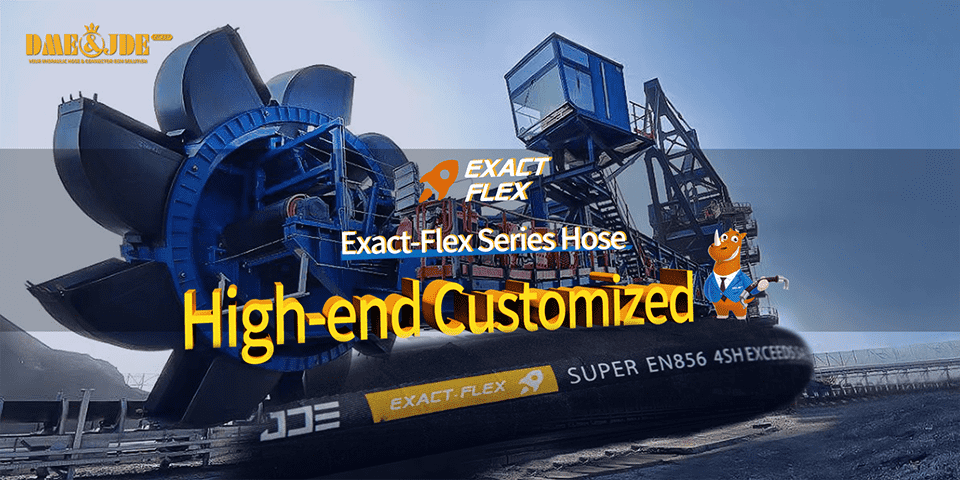 High-End Customized Exact-Flex Series
As you can tell from our name, our team at DME&JDE specializes in providing high-quality industrial hoses. We understand that hoses play an important role in your operation, and we want to help you ensure that your equipment continues to perform optimally. To help you do that, in this article we will provide a brief guide on how to select the right hoses for your needs. Here at DME&JDE, we know just about all there is to know about hydraulic hoses and their various accessories. Our team wants to help you get the best performance from your hoses.
Under this premise, we have done a lot of work to develop and experiment successfully with our high-end EXACT-FLEX hydraulic hoses. Specially solve installation and use problems for customers, special customization, just for you!

Excellent Properties
Ultra High Pressure

The SAE R15 42MPa of EXACT-FLEX series spiral hose adopts specially designed high-strength steel wire, the diameter of the steel wire is optimized, and the strength of the MPA level is improved. In particular, 3/4" and 1" are both four-layer winding structures. 1-1/4", 1-1/2" and 2" all use six-layer steel wire winding structure. The impulse performance is improved by more than 50% (experimental test data comparison).

EXACT-FLEX series--two-layer steel wire braided hose: Both SAE R19 3/4" and 1" can withstand the pressure of 280 MPa. Currently, it is mainly used in Europe and the United States to replace the four-layer spiral hoses.

Ultra High Impulse

1,000,000 time cycles-ultra-high impulse (experimental test data comparison). The braided hose uses a specially designed inner rubber material with a higher strength rating than the standard inner hose. Impulse cycles up to 1,000,000 times at temperatures below 125 °C.

| Impulse Test Standard | EXACT-FLEX Series | Common Hoses |
| --- | --- | --- |
| One steel braid hoses | 200000 times | 150000 times |
| Two steel braid hoses | 300000 times | 200000 times |
| Four or six steel spiral hoses | 800000 times | 400000 times |
Superior application areas
For Construction Machinery

The hose has lighter weight and more flexible structure and can be used under constant 125 bar working pressure for construction machinery.

For Jack Equipment

Jack hose can withstand ultra high 700 bar working pressure, which is specially designed for jack equipment.

For Tight Space

Equipped with "EASY-FIT" non-skive connectors, super 4SP and Super 4SH are designed for harsh environments. They have ultra-high pressure and high-impact properties with a long service life. Smaller bend radius for limited spaces with installation constraints and broad fluid compatibility. The outer layer is thinner, the joint crimp is more stable, and it is leak-proof.
Product list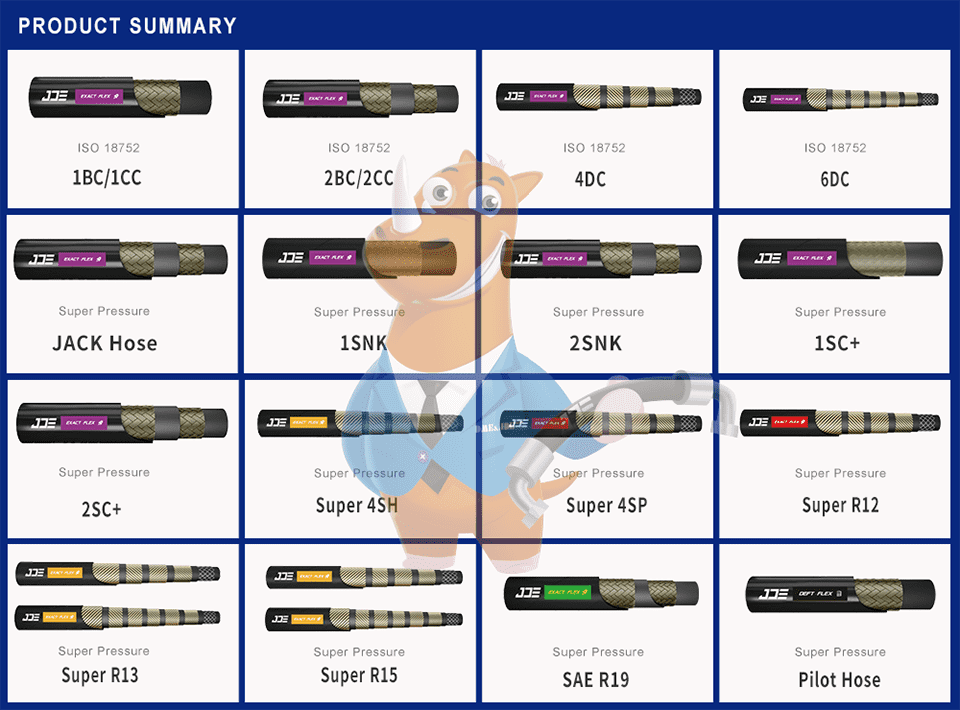 Package Show

Outline
DME&JDE innovations are designed to offer a full line of flexible hoses, fittings and hose assemblies to cover all fluid power applications. We are innovating and developing to provide more products that suit industry trends and customer needs. Our whole series of products can replace the international first-line brands, with better price and stable performance.