Nov 24, 2021
"Thanksgiving Day in 2021": Thanks for Having You, and Win-Win Cooperation for a Long Time.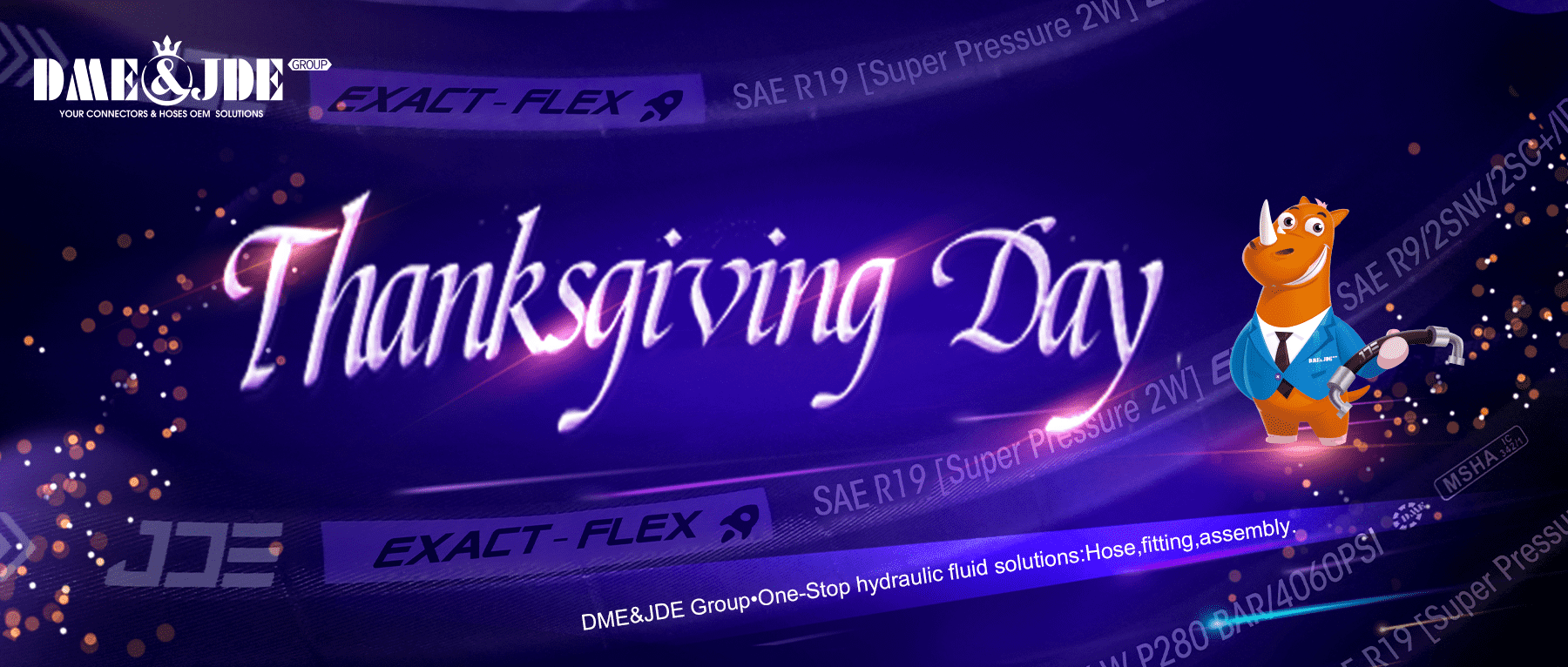 Time goes by so quickly.
DME&JDE Group (DME&JDE) is committed to technical research and innovation, constantly optimizing production equipment, iteratively updating products, using mainstream advanced equipment and stable and qualified raw material suppliers in the manufacturing process. The team has been working hard to eliminate errors or defects in the production process of hydraulic fittings and hoses, and provide customers OEM high-quality hydraulic comprehensive service solutions.
In 2021, we set up the DME&JDE Group Global Operation Center to make preparations for building a one-stop global supply chain of DME&JDE brand.
In 2021, DME (DME Company) invested 10 million yuan to continuously upgrade the fully automatic hydraulic connector machine tool production line and high vibration frequency connector pulse detection center, mainly providing high-level hydraulic connectors for OEM customers of in Europe, America and China.
In 2021, JDE (JDE Company) invested 10 million yuan to build a fully automatic mixer center, A-level R&D center in Hebei Province and introduce large-size German high-speed braiding machines, mainly to provide high-level hydraulic hoses for high-end construction machinery industry customers in Europe, America and China.
The development of DME&JDE Group (DME&JDE) is inseparable from the trust and support of our partners and dedication and diligence of our employees. Here, we sincerely thank our partners for their support and recognition, your satisfaction is the best feedback to us! Thank the employees for their hard work all the time!
Looking forward to the future, we will uphold the original intention, adhere to the craftsman spirit and mindfully build a one-stop global supply chain of DME&JDE brand.
We take this opportunity to recommend to you SAE R19, a new product of "Exact-Flex" ultra-high pressure ultra-high impulse series hose. Its reinforcing layer is made up of two layers of UT+ grade high-precision steel wire braids instead of four layers of spirals, which makes the hose lighter and can bear 280Bar high pressure, and greatly reduces the production cost and improves the production efficiency.