August 11th, 2022
Enter the European & American Markets and Build an Independent Brand Made in China
DME&JDE Group provides hydraulic hose, hose fittings, hose assembly and OEM solutions to customers.
We have been recognized by the system certification. The purpose of our system certification is to prove that we have the ability to stably provide products that meet the requirements of customers and applicable laws and regulations. JDE hose has passed the certification of American MSHA, French BV, Russian GOST and ISO9001. And, DME hose fittings have passed the certification of ISO9001 and IATF16949.
The document will show you these certifications in photo form.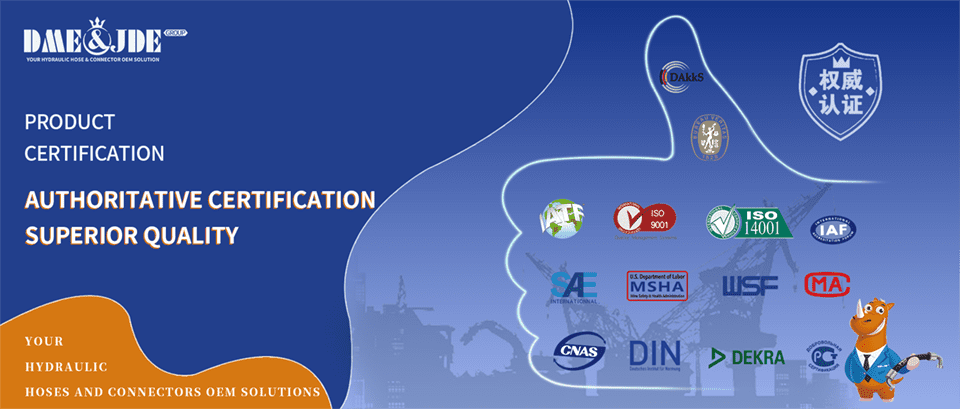 IATF 16949 Certification
IATF (International Automotive Task Force) is a specialized organization established in 1996 by major automobile manufacturers and associations in the world. On the basis of ISO9001:2000 edition and with the approval of ISO/TC176, the specification ISO/TS16949:2002 was formulated. In 2009, it was updated to ISO/TS16949:2009. The latest standard implemented was IATF16949:2016.
IATF16949 is the technical specification of the international automotive industry, which focuses on preventing defects and reducing quality fluctuation and waste in the automotive parts supply chain.
It is only applicable to automobile manufacturers and their direct spare parts manufacturers, that is to say, these manufacturers must be directly related to the production of automobiles, be able to carry out processing and manufacturing activities, and increase the value of products through such activities.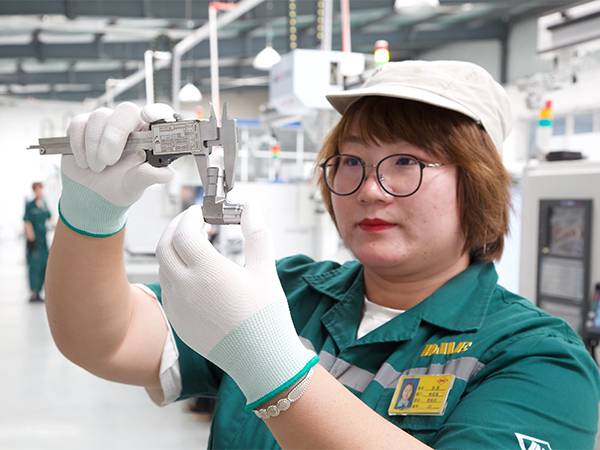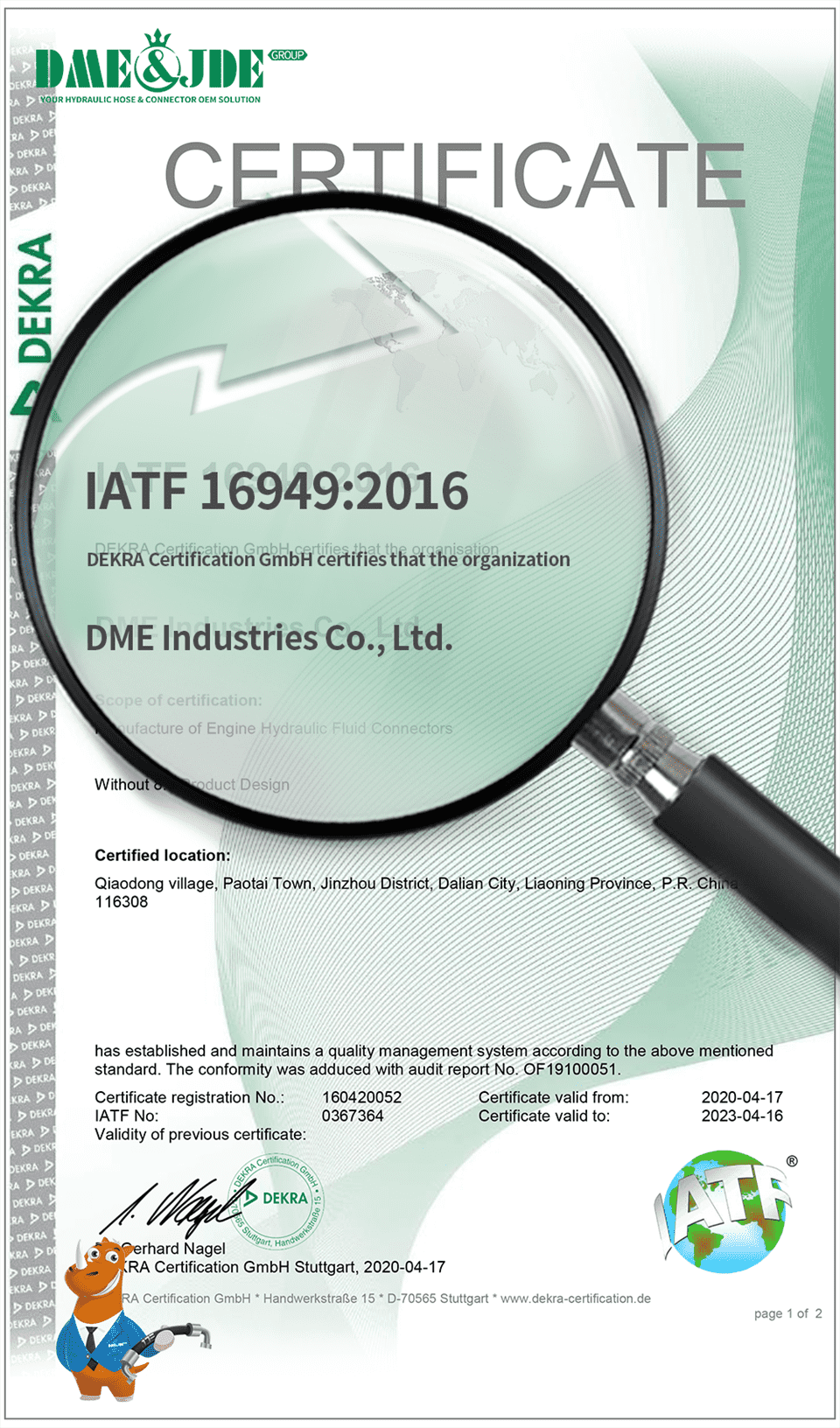 ISO 9001 Certification
ISO 9001 is not a standard, but a general name for a class of standards.It is all international standards made by TC176 (TC176 refers to the quality management system technical committee), and it is the best-selling and most common products among more than ISO 12000 standards.
ISO 9001 quality management system certification standard is a summary of the development of management theory and practice in many countries, especially developed countries. It reflects a management philosophy and quality management methods and modes, and has been adopted by more than 100 countries and regions in the world.
ISO 9001 international quality management system standard is the most mature management system and standard in the world so far, and it is the foundation of enterprise development and growth.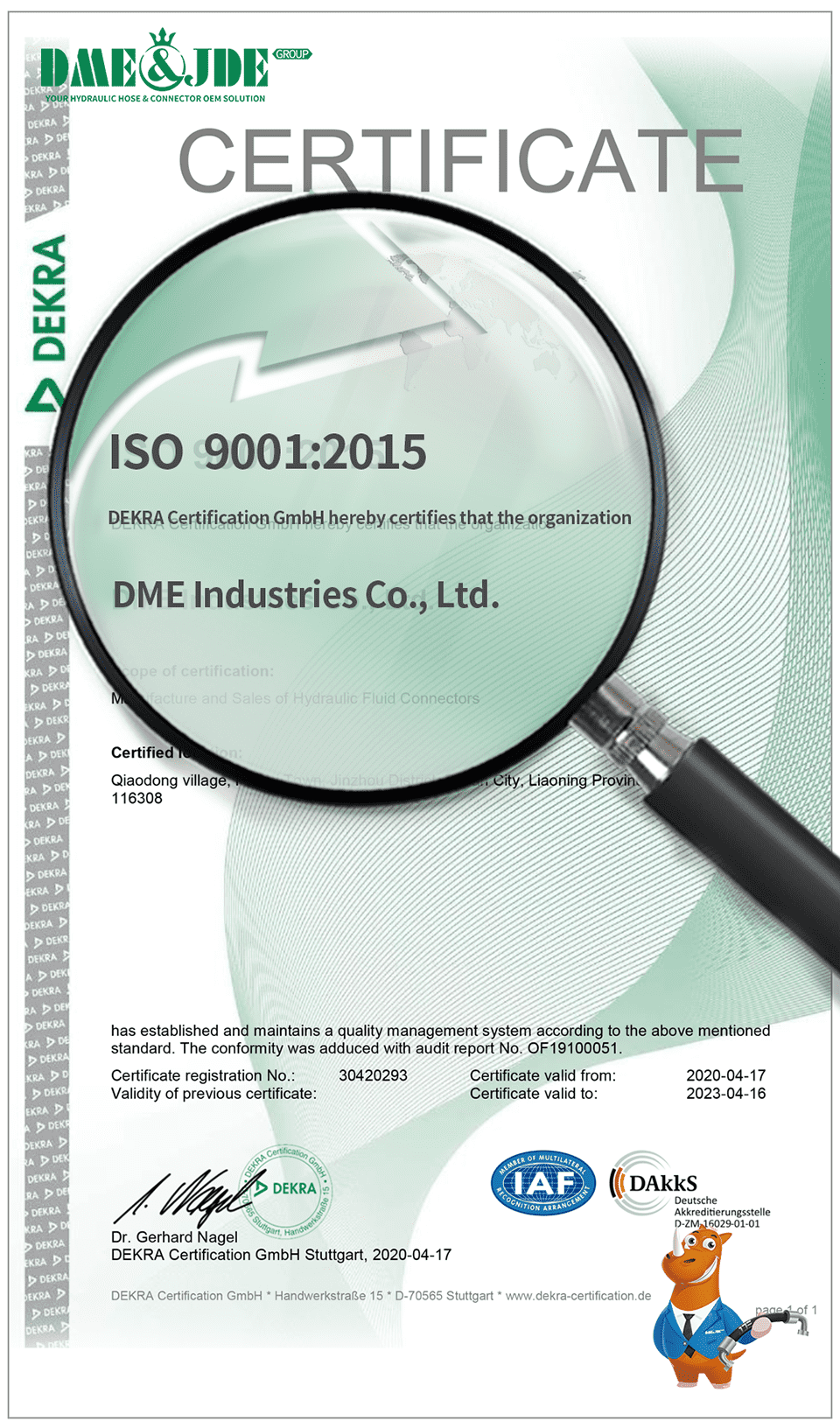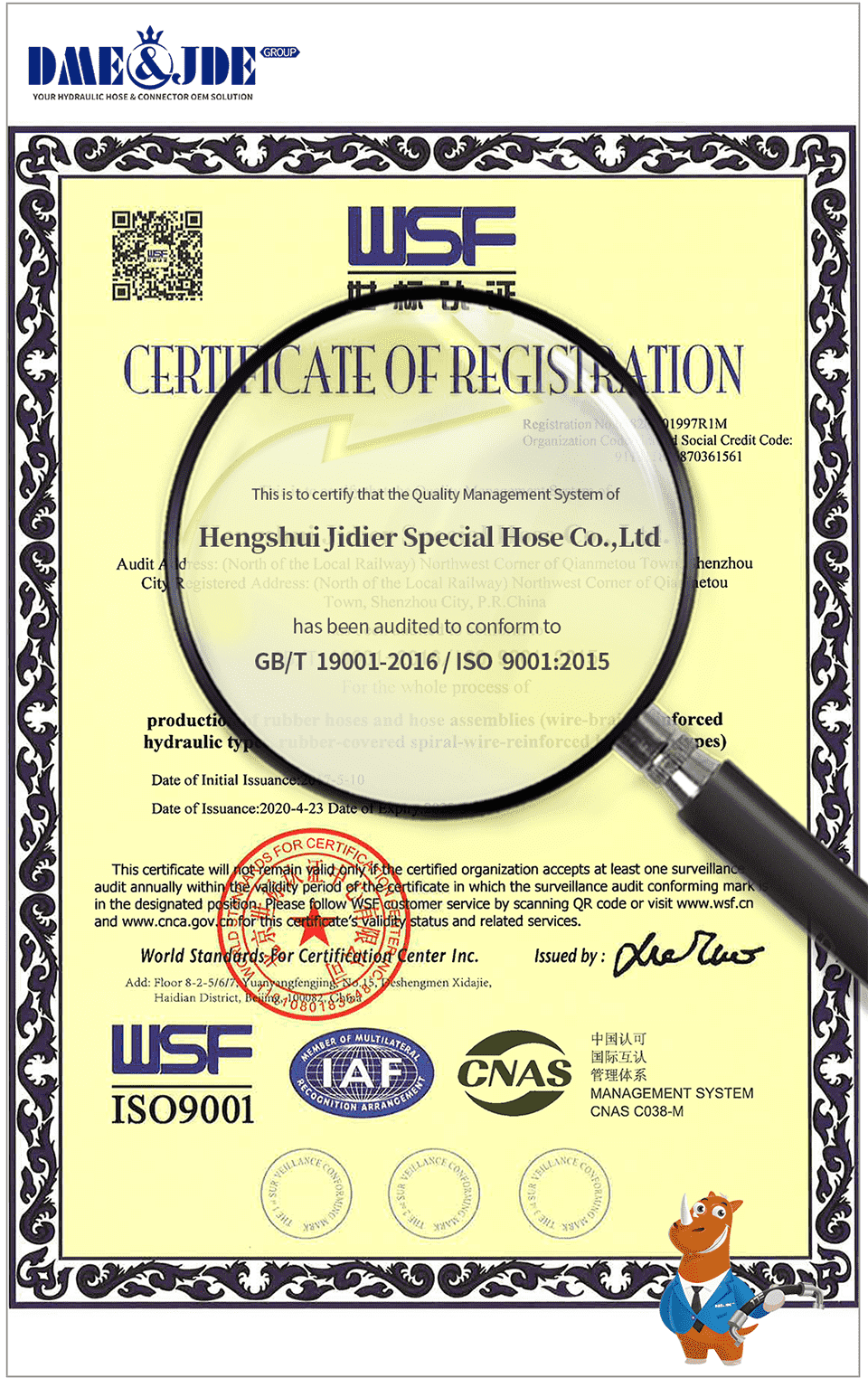 ISO 14001 Certification
ISO 14001 is the code for environmental management system certification. ISO 14000 series standards are environmental management system standards formulated by the international Organization. It is aimed at the increasingly serious global environmental pollution and ecological destruction, ozone layer destruction, global warming, the loss of biodiversity and other major environmental problems that threaten human survival and development in the future. It is formulated to meet the needs of international environmental protection and according to the needs of international economic and trade development.
ISO14001 certification is applicable to any organization, including enterprises, institutions and related government units.After passing the certification, it can be proved that the organization in environmental management has reached the international level, to ensure that the control of various pollutants in various processes, products and activities of the enterprise meets relevant requirements, which is helpful for the enterprises to establish a good social image.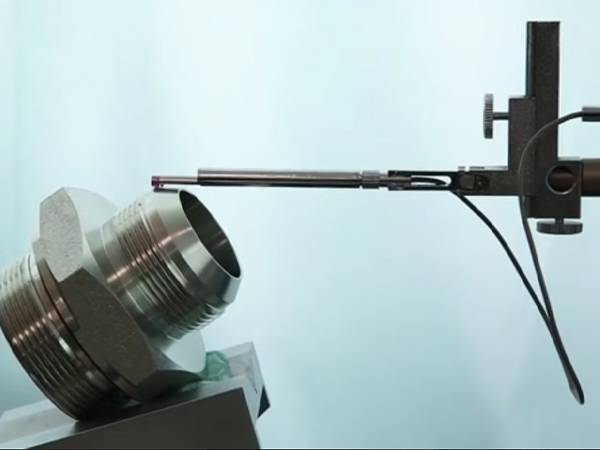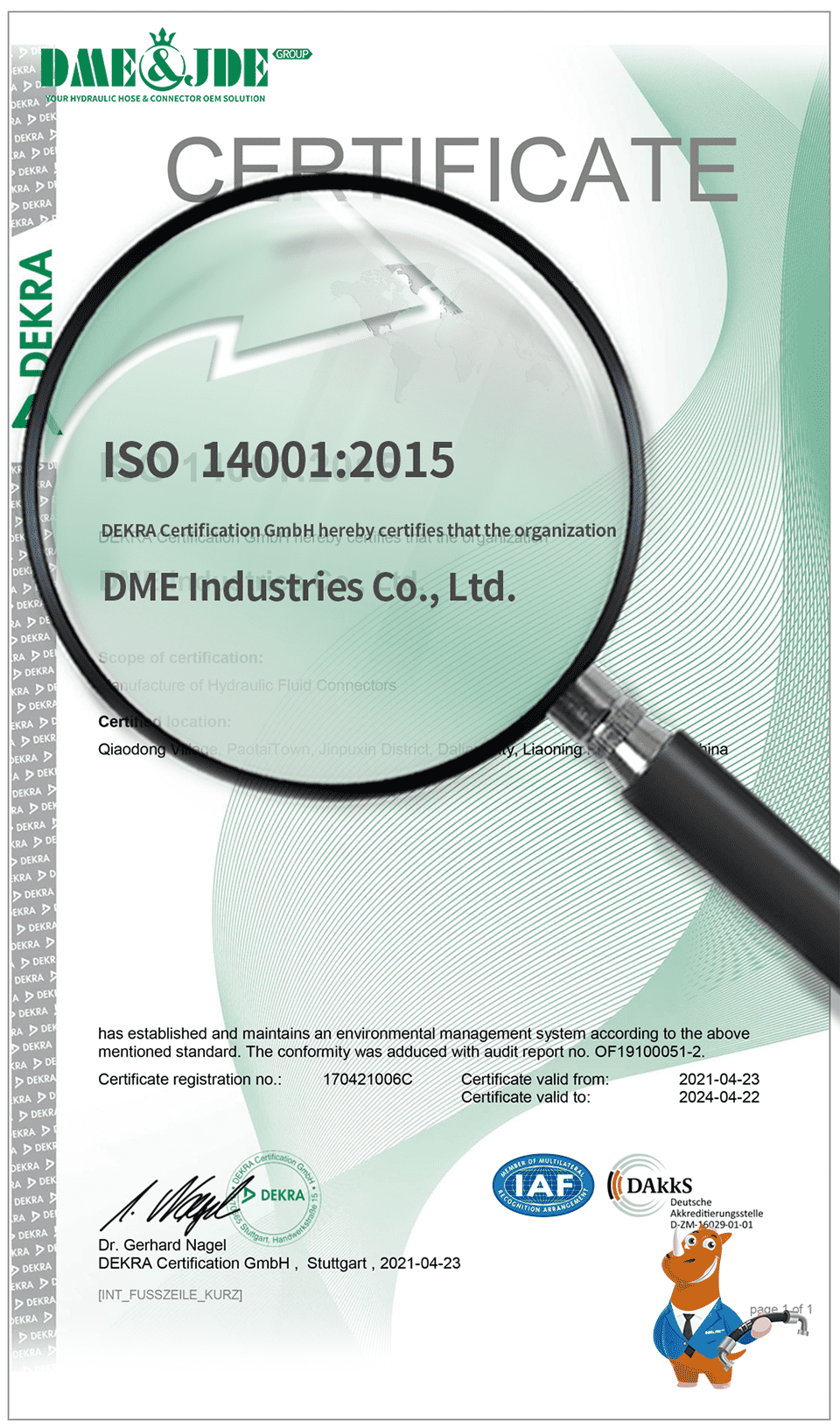 Russian GOST Certification
GOST certification is a mandatory safety certification for market access and is regarded as a passport for manufacturers to open and enter the market in Russia and other CIS countries.
GOST certification is an effective quality certification system in the Russian Federation (also known as GOST-R certification). Imported products from abroad should meet Russia's national quality standards, that is,GOST certification.
For enterprises, obtaining the certification certificate of the former Soviet Union countries can be directly listed sales, can set up consignment sales or direct sales in Russia, and solve the problem of using the certificate for a long time. Once certified, within three years of validity, each batch of products exported will receive a copy of the certificate, which can be used as a valid proof to guarantee export and listing. Third, the Russian compulsory certification mark can be used to enhance the product value and provide credibility guarantee for enterprises to explore the Russian market.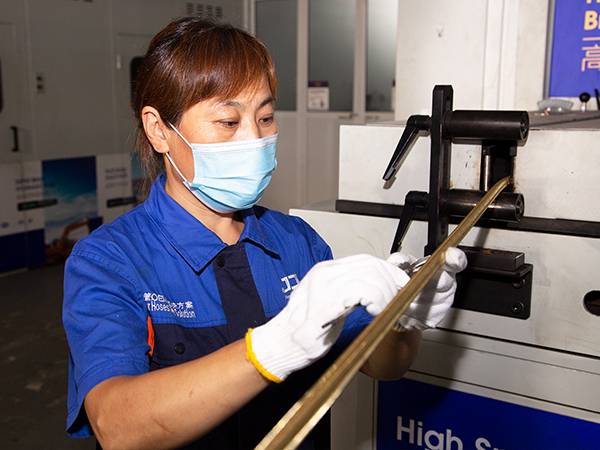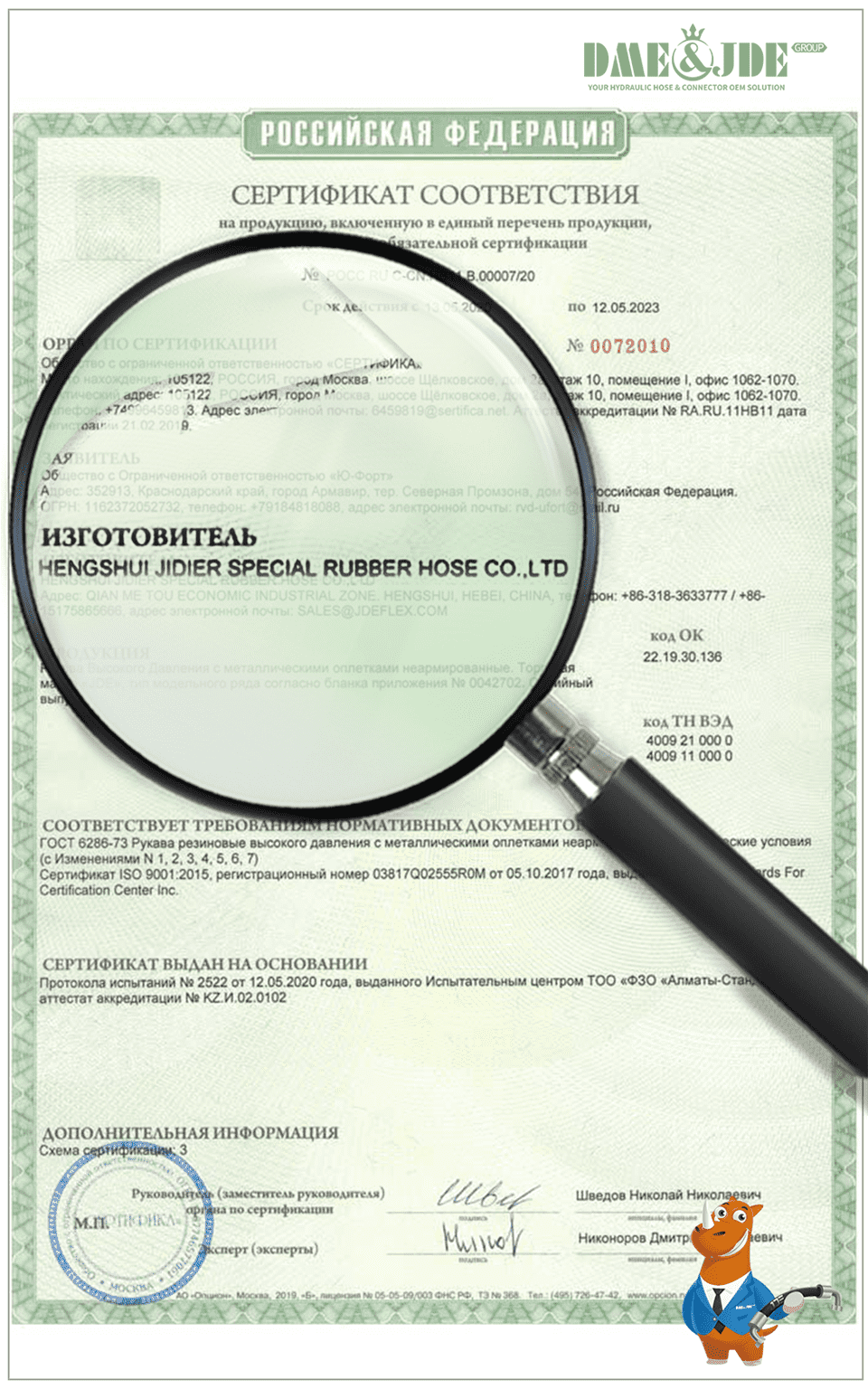 American MSHA Certification
MSHA took a new look at U.S. mine safety and health issues from a technical and regulatory perspective, and in May 2006 enacted MINER Act of 2006.The act was the first amendment to Federal Mining Safety and Health Act of 1977.
MSHA certification is very strict in the management of mine safety products. According to regulations, safety products used in coal mines and non-coal mines containing gas must be tested, evaluated and approved by MSHA, and issued a unified MSHA safety mark before they can be used. The product of safety management involves all aspects of mine production. In addition to strict management of new mining products, there are clear management provisions for in-use products, product maintenance and product scrapping.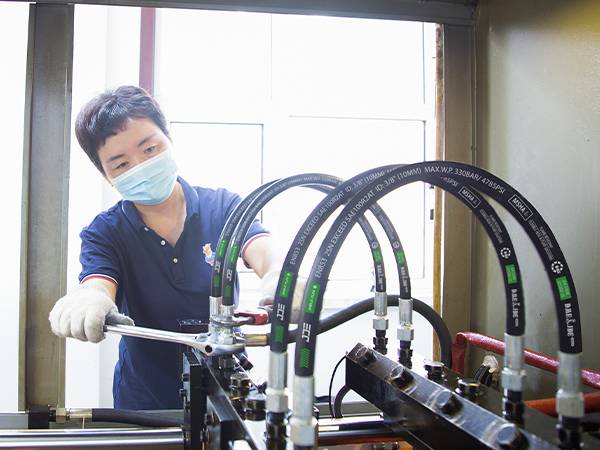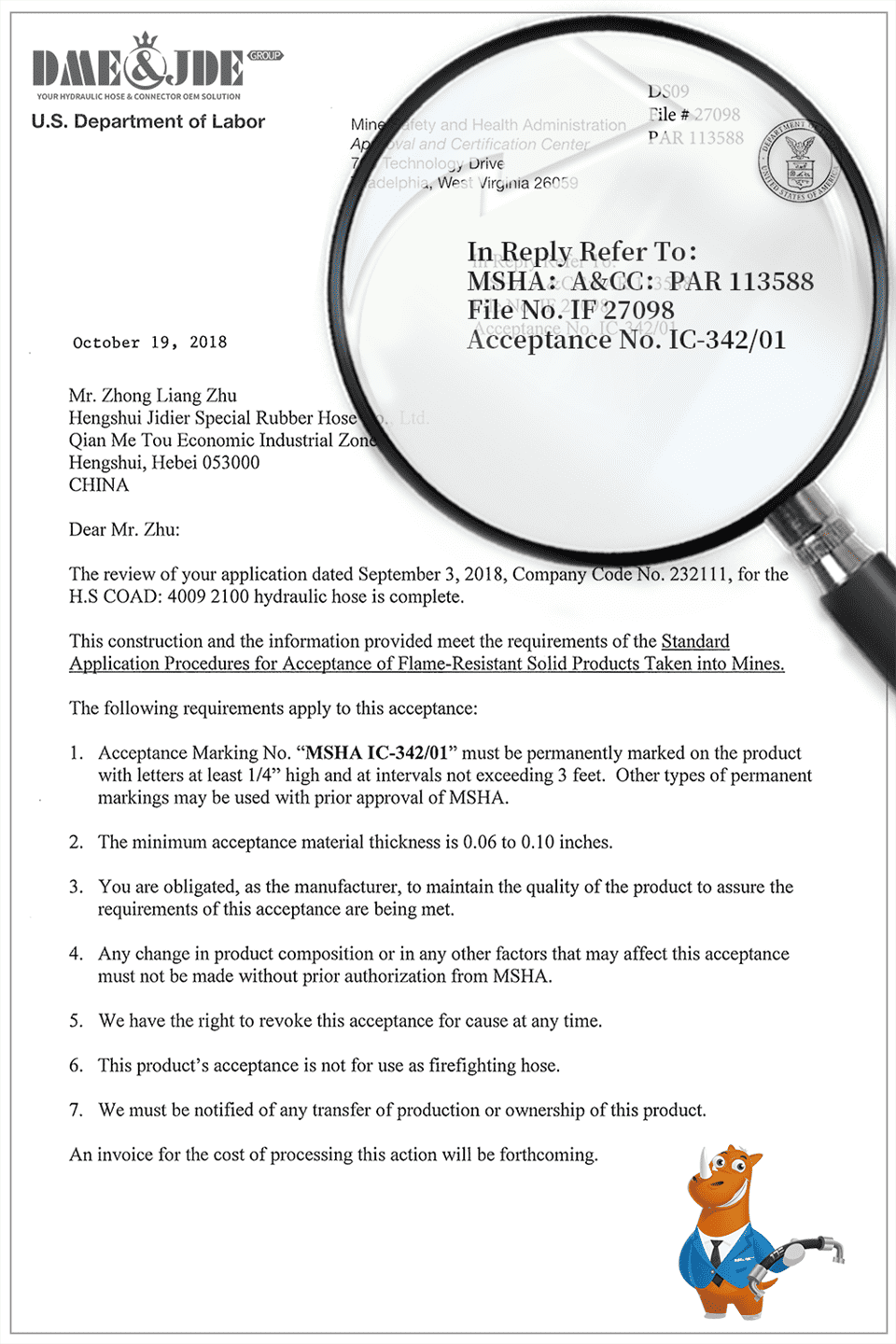 French BV Certification
Bureau Veritas (BV) was founded in 1828, and its group headquarters is located in La Defense business district in Paris, France. Bureau Veritas (BV) is an internationally renowned inspection, certification, consulting and engineering quality control organization. Providing global industry leading quality, health, safety and environment (QHSE) and social responsibility services.
Bureau Veritas Certification is a member of the ISO/TC176 and ISO/TC207 Technical Committees, and participates in the formulation of ISO 9000 and ISO 14000 standards and a range of industry standards, making great contributions to the development and promotion of standards.
Bureau Veritas Certification is recognized as one of the most international certification institution in the world through the system certification business conducted by experts in more than 200 offices in more than 60 countries around the world.